Filed under: General Health, Nutrition
In my mind meat, eggs, and dairy products from pasture-raised animals are ideal for your health. Compared with conventional feedlot-raised animals, they offer you a much greater nutrient profile. They are richer in antioxidants and vitamins; including vitamins A, C, D, E, and K. Additionally, they do not contain traces of added hormones, antibiotics or other drugs and they do not eat grass that has been treated with herbicides and pesticides.
There are a number of nutritional differences between the meat of pasture-raised grass-fed animals and conventional feedlot-raised animals. Meat from grass-fed cattle, sheep, and bison are leaner, and can have up to one third as much fat content as a similar cut from a grain-fed animal. Not only are grass-fed pasture-raised animals leaner, the fat content of their meat is of a higher quality. Meat from grass-fed animals has two to four times more omega-3 fatty acids than meat from grain-fed animals. Omega-3 fats can reduce blood pressure, decrease LDL, decrease triglycerides, slow the growth of a wide array of cancers, regulate heartbeat, are essential for your brain, eyes and nerves, and people with diets rich in omega-3 fats are less likely to suffer from depression, schizophrenia, attention deficit disorder, or Alzheimer's disease.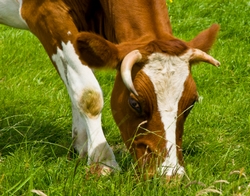 Allowing animals to graze on pasture provides higher amounts of omega-3 fats because omega-3′s are formed in green leaves and algae. Sixty percent of the fatty acids in grass are omega-3′s. Grain-fed animals are not given access to foods rich in omega-3′s, so their meat content contains little to none.
The same issue arises with hens and their eggs. Conventionally-raised chickens are housed indoors and are deprived of greens, mainly being fed corn, causing their meat and eggs to become artificially low in omega-3 fats. Eggs from pasture-raised hens can contain up to ten times more omega-3 fats than conventionally raised hens! Only 40% of Americans consume enough omega-3 fats, and 20% have blood levels so low that they cannot be detected. Switching to meat, dairy and eggs from grass-fed and pasture-raised animals is one way to increase your intake of these vitally important omega-3′s.
Another benefit of eating grass-fed pasture-raised animals is their CLA content. CLA is another healthy fat called conjugated linoleic acid. Meat and dairy from grass-fed animals provide the richest source of CLA on the planet, containing three to five times more CLA than feedlot-raised animals. CLA has been found to greatly reduce tumor growth in animals, and possibly in humans as well. In a Finnish study women who had the highest levels of CLA in their diet had a 60% lower risk of breast cancer than those with the lowest. Simply switching from conventionally-raised grain-fed meat and dairy to pasture-raised grass-fed versions places women in the lowest risk category.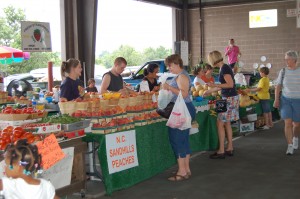 Locating pasture-raised grass-fed animals may seem daunting, but with only a little searching you should be able to locate some near you. Websites like eatwild.com and localharvest.org can help you find local farms, farmer's markets and natural food stores. You can either choose to eat healthy animals that get sunshine, exercise and consume a beneficial diet, or animals that spend most of their lives tightly enclosed, hardly move and consume diets that will eventually kill them, the choice is yours.
Check out the BSP Training & Nutrition Newsletter!
You will get immediate access to:
Weekly updates and exclusive content.
The 20-page report "The Truth About Saturated Fat & Cholesterol."
Become more awesome!
Leave a Reply