Filed under: General Health, Nutrition
I'm excited to announce that I will be giving a full-day workshop at Cressey Sports Performance in Jupiter, FL on April 9th.
==> http://ericcressey.com/cressey-sports-performance-nutrition-seminar-april-9
I delivered a similar full-day workshop at CSP MA last April, and it was an awesome experience.
This is the kind of nutrition coaching workshop I wish I had attended 10 years ago, when I was fresh out of my nutrition undergrad. It would have accelerated my knowledge, skills, and practical application 10 fold!
I go through nutrition science, nutrition assessment and triage, making appropriate adjustments, as well as providing a coaching methodology to put it all into action.
We then take all that theory and tackle some client case studies in groups, working through and applying everything we just learned. We discuss our process and next actions, debate their merits, and come out in the end feeling well prepared to provide nutrition coaching in the real world, with real people.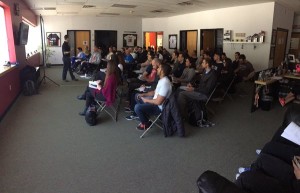 Here's a look at our agenda for the day:
8:30am — Registration
Morning Session — Laying the Foundation
9:00am — Human metabolism and the calorie conundrum
10:00am — Proteins, carbs, and fats: Why each is critical
11:00am — Supplements: What works, what might, and what doesn't
12:00pm — Q&A
12:30pm — Lunch
Afternoon Session — Practical Application
1:30pm — How to assess and where to begin: Triaging nutrition
2:30pm — Controlling portions and making adjustments
3:00pm — Dietary adjustments for advanced fat loss and muscle gain
3:30pm — Breakout session: Problem solving and case studies
4:30pm — Closing remarks and Q&A
Sign up now to grab the early bird discount for $20-30 dollars off!
==> http://ericcressey.com/cressey-sports-performance-nutrition-seminar-april-9