Filed under: Movie Review
Yesterday was my first Father's Day, and it was absolutely wonderful. The weather was just perfect, and even though my team lost in our family softball game, I did hit two homeruns!
My wonderful wife bought me Strong Fathers, Strong Daughters, a book that a reader suggested a while ago. I am looking forward to reading that for sure.
One night last week, I can't remember which, my wife and I watched the Best Picture winner The King's Speech, and I must say I thoroughly enjoyed it.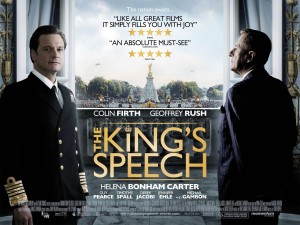 Colin Firth most certainly deserved the Oscar, as he was abolutely tremendous. The back and forth dialogue between he and Geoffrey Rush was fantastic, and personally, I think Rush was every bit as good as Firth. In many ways he made the movie.
While many might think this is a stuffy period piece, it was actually quite funny as I found myself laughing out load repeatedly throughout the movie. While some contend that some of the historical elements of this movie were not perfectly accurate, I do have to point out that it is not a documentary, it is a movie. Complete historical accuracy is not required.
Overall I found the direction to be excellent, the feel of the period to be spot on and the acting to be absolutely superb. This was a highly enjoyable and uplifting movie and definitely deserves to be seen.