Filed under: Nutrition
Today I wanted to show an example of why I think pasture-raised grass-fed products, dairy in particular, are so much different from their conventionally-raised counterparts.
Though I have blogged about the greatness that is Organic Valley Pasture Butter, now that I am home in Maine I have access to butter that I think is even better.
I purchase this butter at a farm stand in Leeds, ME near my parents camp (we call it a camp in Maine, most other people refer to it as a cottage). This butter is absolutely incredible. It tastes so incredibly buttery, for lack of a better word.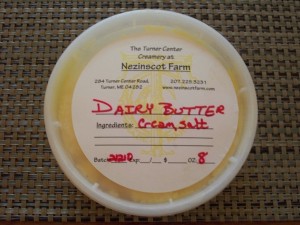 Just look at the color of it. It is a deep yellow, just bursting with so much more vitamin A, vitamin D, vitamin E, beta-carotene, omega-3′s, CLA and more than conventionally raised butter. I know that the Organic Valley Pasture butter has 8% of your daily value of vitamin A, 110 mg of CLA and 120mg of Omega-3′s per tablespoon, so I wonder what this has!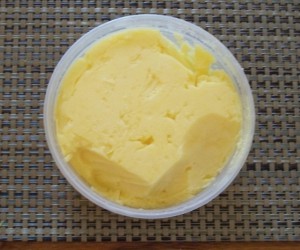 I also just love how the only two ingredients are cream and salt, no fillers or colors here. Unfortunately we ran out for a while and had to consume store-bought Kate's butter.
Kate's butter is an award-winning butter made fresh daily in Maine, but as far as I know the cows are not grass-fed, and the butter pales in comparison. It is a much, much lighter yellow, more like off-white, and just lacks that same intense butter flavor. Don't get me wrong it is still good, just not nearly as good as the grass-fed version.
With less color you know it just has less of those ever-important fatty acids and fat-soluble nutrients that make butter a healthy food.
Isn't the difference just striking? To me it just exemplifies how far our food production has fallen. Are they both butter? Yes. Are they nutritionally and deliciously equal? Hell No!
Just focusing on CLA, here is the difference. Dairy, and meat, from pasture-raised grass-fed animals provide the richest source of CLA on the planet, containing three to five times more CLA than feedlot-raised animals. CLA has been found to greatly reduce tumor growth in animals, and possibly in humans as well. In a Finnish study women who had the highest levels of CLA in their diet had a 60% lower risk of breast cancer than those with the lowest levels. Simply switching from conventionally-raised grain-fed meat and dairy to pasture-raised grass-fed versions would have placed all the women in the lowest risk category.
The fact of the matter is consuming foods how they were meant to be grown and developed will maximize nutrient density, so do your best to find local high-quality sources of food. Your body will thank you.