Filed under: General Health, Training, Youth Training
As you are well aware, I don't blog like I used to. This is simply due to all of the work and writing I already do at PN.
However, when I do blog, it's usually to share:
some cool work I'm doing or have recently done at PN;
upcoming public seminars or workshops I'm giving; and/or
helpful, newly available resources that can benefit you.
Today is option #3.
Mike Robertson has created an excellent new resource – Complete Single-Leg Training.
Mike is a friend of mine, and one of the most sought after trainers and coaches in our industry.
He's trained professional athletes from virtually every major sport.
He is also the co-owner of IFAST, an incredibly popular training facility that has been named one of the Top 10 Gyms in America by Men's and Women's Health magazine numerous times.
So yeah – the guy knows what he's doing!
If you've ever asked yourself any (or all) of these questions:
Do single-leg lifts really replace bilateral lifts like squats and deadlifts?
How should I be coaching them for maximum effectiveness?
What is the best way to progress someone to improve their single-leg training?
Then you should check out Mike's Complete Single-Leg Training.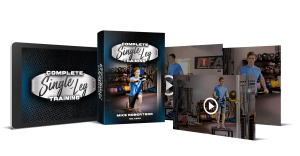 Ultimately, here's the deal. Mike is a super smart dude. He's always asking questions, always looking to learn, grow and improve.
I'm not a salesman; I'm a dietitian, nutrition coach and strength and conditioning coach. And I found this product to be very helpful for my own training, as well as training my own clients.
It gave me a system for using single-leg work, and if you know anything about me, you know that I find systems, processes, and concepts to be the KEYS to consistently helping folks, as well as myself. It makes it easy to know when to include single-leg work, what to include for whom, and when NOT to include it. This makes my job easier, clearer, more effective and more efficient. What coach doesn't want that?
So, check it out. See if it's right for you. And let me know what you think.
So yeah – the guy just might know what he
'
s doing!