Filed under: General Health, Nutrition
Q. Hey Brian,
 
I've been reading your take on Paleo/anti-nutrients/phytic acid etc.  And Nate Miyaki and I have been talking about this topic.  It looks like you two are mostly on the same page, with maybe a few different versions of what you recommend as a general rule to the masses (obviously we all modify for individual cases).
 
Nate recommends (as a general rule) white rice over brown rice because the "anti-nutritents" (phytic acid in this case) are removed leaving pure amylose and amylopectin starches, which is "what we want as athletes."  I have a client that has been reading up on the white rice/brown rice – which is better – thing.  Client believes brown (like many believe) is better because it is not processed/stripped of good "things."  Nate/paleo people seem to say white is better (for those with potential problems with phytic acid).  IF someone doesn't have problems with phytic acid, do you think one is better than the other (FYI: I understand the GI is basically irrelevent if people eat protein/veggies with their carb).
 
Nate also said to me in an e-mail; "there is a reason that Asians eat more WHITE rice."  Then my client said, "yeah, here is the reason," …http://drbenkim.com/node/82  Any thoughts on this?
 
Finally, my client also said, "Did you know that by law you have to fortify white rice with vitamin B and iron?"  Any truth to this that you know of?
 
Thanks!
A. The white vs brown rice debate is very interesting, and not nearly as one-sided as many health enthusiasts might believe. While brown may have slightly more fiber and have slightly less of an impact on blood sugar, the differences are so minute as to be more or less irrelevant.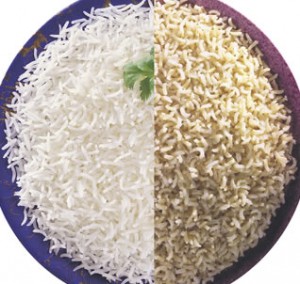 In addition brown rice is also rich in phytic acid. In my opinion it is not a matter of whether or not you have a problem with phytic acid, it is whether or not the greater amount of nutrients in brown rice are actually off-set by its phytic acid content. For those who don't remember, phytic acid binds to important minerals and prevents their absorption.
In fact here are two interesting studies that Alan Aragon posted years ago on a forum that may help answer this question (it took me forever to dig these up!):
Comparison of the nutritional value between brown rice and white rice
Callegaro Mda D, Tirapegui J. Arq Gastroenterol. 1996 Oct-Dec;33(4):225-31.
Cereals are considered an important source of nutrients both in human and animal nourishment. In this paper nutritional value of brown rice is compared to that of white rice in relation to nutrients. Results show that despite higher nutrients contents of brown rice compared to white rice, experimental data does not provide evidence that the brown rice diet is better than the diet based on white rice. Possible antinutritional factors present in brown rice have adverse effects on bioavailability of this cereal nutrients.
http://www.ncbi.nlm.nih.gov/pubmed/9…ubmed_RVDocSum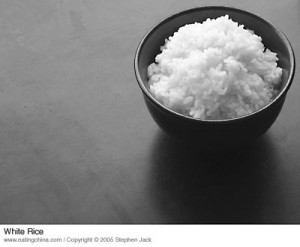 Effects of brown rice on apparent digestibility and balance of nutrients in young men on low protein diets
J Nutr Sci Vitaminol (Tokyo). 1987 Jun;33(3):207-18. .Miyoshi H, Okuda T, Okuda K, Koishi H.
The effect of brown rice with low protein intake was studied in five healthy young men. Feces were weighed, the digestibility of nutrients was determined, and blood tests were made. Each subject followed a diet consisting mainly of polished rice for 14 days and one consisting mainly of brown rice for 8 days. Both diets contained 0.5 g protein per kg of body weight. The brown rice diet had 3 times as much dietary fiber as the polished rice diet. On the brown rice diet, fecal weight increased, and apparent digestibility of energy, protein, and fat decreased, as did the absorption rates of Na, K, and P. The nitrogen balance was negative on both diets, but more negative on the brown rice diet. The phosphorus balance on the brown rice diet was significantly negative, but other minerals were not affected by the diet. The levels of cholesterol and minerals in the plasma were not significantly different on the polished rice diet and the brown rice diet. Comparing these results with data on standard protein intake (Miyoshi, H. et al (1986) J. Nutr. Sci. Vitaminol., 32, 581-589.), we concluded that brown rice reduced protein digestibility and nitrogen balance.
http://www.ncbi.nlm.nih.gov/pubmed/2…ubmed_RVDocSum
Interesting data for sure.
Personally, I don't think you eat rice simply for the starch content; the vitamin and mineral content (as well as the phytonutrient content) are also important reasons as to why you eat certain foods. Would you choose white bread over sprouted grain bread simply because it has been reduced down to mostly starch? I wouldn't.
Having said that though, I don't think there is really much of a difference between white rice and brown. It certainly will not make or break your health or your physique.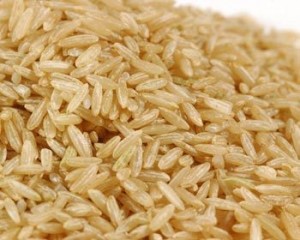 As for it being necessary to refortify refined grains, this is absolutely true. That is why if you look at the ingredients list of white bread, it will say it is fortified with x, y and z. The refinement process removes the minerals, so they are required by law to put them back in.
However what was never realized is that just because the unrefined version has a higher mineral content, that does not necessarily mean that those minerals are being absorbed in greater amounts. If these grains are not properly prepared, then absorption is not at a level that is really any higher than the amount provided by and absorbed from the refined versions. You can thank phytic acid for that.
The moral of the story is that they are pretty equal. If you like the taste of white rice and will be more compliant with a healthy lifestyle by eating it, then go for it. Same goes for brown. The differences are negligible so enjoy whichever one you prefer!
Check out the BSP Training & Nutrition Newsletter!
You will get immediate access to:
Weekly updates and exclusive content.
The 20-page report "The Truth About Saturated Fat & Cholesterol."
Become more awesome!
Leave a Reply