Filed under: General Health
A CP client just sent me an article on abcnews.com that asks the question "Did Creatine Lead to Compartment Syndrome Cluster?"
The article alleges that creatine may have caused 13 members of the McMinnville High School football team to be hospitalized with severe muscle problems.
This article is an example of absolutely awful sensationalist reporting. It makes it sound like 13 members of the team developed this rare Anterior Compartment Syndrome, when in reality only 3 developed it. Granted that is still an unusually high number, but it seems like a rather intentional misrepresentation of the facts to me. It also has a caption under a picture of these kids in the hospital, saying that 12 were admitted for severe muscle problems. The video states 14 players! So which is it, 12, 13, 14?
The reporter states that creatine has been linked to anterior compartment syndrome, but doesn't provide any actual data or references, when in reality the link is tenuous at best.
In a 2006 double-blind, placebo-controlled, randomized, cross-over study (ie – the gold standard) at the University of Connecticut this theory was put to the test (free full text!). They placed 11 well-trained athletes through tests meant to mimic conditions in pre-season tryouts.
Subjects were put through two sessions, one 120 minutes, one 80 minutes, one hour apart. The subjects completed these sessions in over 90 degree heat in moderate humidity, causing approximately 4% loss in bodyweight. A 4% loss in bodyweight is a very significant amount. At just 2% bodyweight loss athletes performances can be decreased by up to 30% and experience rapid heart rates, elevated body temperatures, and rapid fatigue.
These subjects also consumed either 21.6 grams/day of creatine monohydrate or placebo for 7 days prior to the trials as this mimics the normal loading phase of creatine, which is usually 20-25 grams per day for 7 days. I will note that I personally do not recommend loading, as you can simply take 5 grams/day and reach the same saturation point in 28 days, so why waste product and money?
Anyway, back to the study. The researchers found:
"Our results show that short-term creatine monohydrate loading did not significantly increase resting anterior compartment pressure measures. However, creatine monohydrate did affect the anterior compartment pressure responses specific to dehydration, because a small to moderate effect was reported between pre-dehydration and post-dehydration anterior compartment pressure measures. Our data showed a greater increase in anterior compartment pressure in the creatine monohydrate trial than in the placebo trial at the post-dehydration time point. We also found that creatine monohydrate had an effect on the dehydrated subjects exercising in the heat, because a small to moderate interaction was reported between pre-dehydration and 1 minute post-heat tolerant test exercise for the trials. In addition, we discovered that creatine monohydrate supplementation caused a delay in the return of post-exercise anterior compartment pressure measures to resting values in these dehydrated subjects exercising in the heat."
Uh oh, is creatine actually deserving of the blame? Lets keep reading to see the final conclusion.
"No evidence was observed in our study that short-term creatine monohydrate loading led to the signs and symptoms consistent with anterior compartment syndrome in a dehydrated athlete performing intense, intermittent, and prolonged exercise in the heat and humidity. None of the subjects in this study complained of lower extremity aching, cramping, burning pain, or tightness over the area of the anterior compartment of the lower leg, which is consistent with most of the literature.
High dose creatine monohydrate supplementation during exercise periods of increased thermal stress showed a mild to moderate trend toward increased anterior compartment pressure measures in dehydrated males. However, our results do not support the American College of Sports Medicine's recommendation (to avoid creatine in hot environments), because no associated symptoms of anterior compartment syndrome were seen. The differences were minimal, and the increased pressures readily equalized after intermittent exercise."
Hhmmm, so a sterling study that mimics intense two-a-days in 90 degree heat and moderate humidity found that (large) creatine supplementation did mildly increase the anterior compartment pressure (though it quickly returned to baseline), but it did not actually cause anterior compartment syndrome nor any even any of its symptoms!
Anterior compartment syndrome almost always occurs in the lower legs, and is often caused by severe over-use of the tissues. These athletes had the problems in their triceps, which is strange in and of itself. For the tissues in the triceps to develop that type of pressure, the training had to play a role.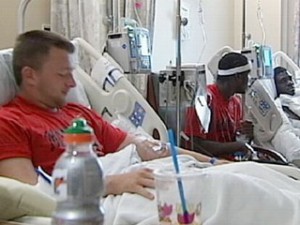 Most of the experts interviewed for the article actually pointed the finger at the over-training that must have occurred for this syndrome to develop. Yet creatine gets the blame?
These athletes had just begun their training camp under a new head coach on Monday with symptoms being reported by Tuesday! No it couldn't have anything to do with a new head coach trying to instill discipline and physically exert these kids into the ground. High school football coaches never do that! It must be the creatine!
Sarcasm aside, could creatine have contributed? Sure, especially if these high school kids were taking amounts outside the recommended doses then it might have made a small contribution, but the cause? I think not. I tend to lean towards the overzealous training myself.
It just drives me nuts how reporters like this know that claiming that over-training high school athletes may have lead to anterior compartment syndrome is not as sexy nor as provocative as stating that a nutritional supplement caused it.
While there are a lot, and I mean a lot, of shitty supplements out there that high school kids feel compelled to take, there are also a lot of good ones. Plain, high quality creatine monohydrate is the most studied supplement in history, and it has a sterling track record. If it really is such a dangerous substance, how do hundreds of thousands, probably even millions of athletes take it without also developing anterior compartment syndrome?
The literature has noted that the only consistently documented side effect of creatine supplementation is bodyweight increase! This is one of the primary purposes of supplementing with it!
What about the possibility that these kids did take creatine, but a poor one, with who knows what else in it that contributed to this issue? I think that is very likely knowing the nature of high school kids wanting to take the most "extreme" supplements that will get them insta-jacked.
What sounds better to a high school football player: Sodium Creatine Phosphate Matrix and Creatinol-O-Phosphate-Malic Acid Interfusion, or Creatine Monohydrate Powder?
Is the blame really on creatine monohydrate itself? I don't think so, and a better reporter would have made it clear that the link is tenuous at best, used a less sensationalized title, and maybe actually gathered more data before pointing any fingers.
On an interesting aside, Dr. Donald Christie was one of the experts interviewed who said that creatine is most likely not the cause. Dr. Christie works in my home town of Lewiston, Maine and I know him quite well. Of course he also tossed the word bugaboo into his quote, making us Mainers look even more awesome.
Check out the BSP Training & Nutrition Newsletter!
You will get immediate access to:
Weekly updates and exclusive content.
The 20-page report "The Truth About Saturated Fat & Cholesterol."
Become more awesome!
Leave a Reply