Filed under: General Health, Nutrition
I just wanted to remind everyone that the sale on Mike Robertson's Single Leg Solution ends tonight. This is one hell of a product, so if you want to learn how to properly execute and integrate single-leg work into your training, don't miss out, and pick up a copy of Single Leg Solution today.
Most people know that they should eat more fish, especially cold-water fatty fish like salmon. However it is definitely something that is easier said than done.
Cold-water fatty fish are a great protein source, and are a very rich source of heart-healthy omega-3 fats. Not only that, but wild-caught salmon has its pink color from an antioxidant called astaxanthin, which is 100 times more powerful than vitamin C, and another reason why you should always purchase the much darker and richer-looking wild-caught salmon over farmed salmon, as it is much higher in astaxanthin.
Wild-caught salmon also has lower PCB and dioxin levels, has a better fatty acid profile, eats its natural diet of krill (which is how it gets the astaxanthin) rather than corn, and in my opinion tastes better to boot.
The problem is, you generally have to buy fish fresh and cook it that night, or at the latest the following day. You can also chop and freeze fish yourself, but it tends to make you and your kitchen have that cat-food smell. Not good.
Fortunately I came across a pretty sweet product at Stop N' Shop recently that really helps to solve this problem. Unfortunately it is a Stop N' Shop brand product, so while other chains might carry their own version, they may not.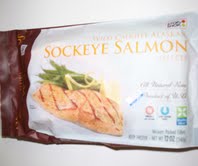 It is frozen wild-caught Alaskan sockeye salmon. It is also sold at the same price as the fresh wild-caught salmon, but it is already pre-portioned and you can eat it whenever you damn well please.
Just toss in the fridge the morning before you plan on eating it, let it defrost for the day and then cook however you want! We usually only cook our salmon one way, because my wife has a pretty damn good salmon topping:
For 1lb of salmon
1 tbsp honey
1 tbsp brown sugar
1 tbsp dijon mustard
Stir all of them together and slather over your salmon. It is absolutely fantastic. They also have other wild-caught fish like haddock (which is a very lean white fish), so now you don't have any more excuses not to get more fish into your diet!
Check out the BSP Training & Nutrition Newsletter!
You will get immediate access to:
Weekly updates and exclusive content.
The 20-page report "The Truth About Saturated Fat & Cholesterol."
Become more awesome!
Leave a Reply