Filed under: General Health, Nutrition
Finally, it is here. I have been talking about blogging about the new "green" Hannaford I just moved in next too, and I am finally doing it. Below is a picture from my front door to the parking lot, that is how close I am to the store. I love walking to the grocery store a few times a week and just picking up the few things I need rather than making monster trips once per week.
This Hannaford is quite impressive. It is the first Platinum-certified LEED supermarket in the world. The Platinum designation is the highest rating a company can receive from the U.S. Green Building Council's Leadership in Energy and Environmental Design (LEED).
This Hannaford is 44% more efficient than the standard grocery store as it has geothermal heating and cooling, solar photovoltaic panels, high efficiency refrigeration, energy efficient lighting, advanced recycling, and vegetation that grows on the roof to provide insulation and help control storm water. It is absolutely amazing the amount of environmentally friendly technology that went into this supermarket.
This store is essentially a research laboratory for the company to see which programs and systems work best to reduce waste, greenhouse gas emissions, and water consumption as well as improve the indoor environment for customers and workers alike. The store boasts significantly greater air quality, doors on nearly all freezer and refrigerated cases which saves energy and provides a more comfortable temperature and more.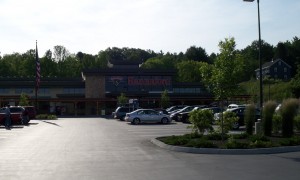 The first time I shopped there I thought the lights in the refrigerators/freezers were broken as they were off. As you approach they flick on to provide light when you need it, and turn off as you walk away, saving energy. It is also home to a state-of-the-art GreenChill refrigeration system, which uses 50% less refrigerant gas than a traditional system.
The best part about this store is the large produce and "natural foods" section they offer. I am able to get virtually everything I eat from one store, rather than splitting it up so much as I did before. I can get my raw cheese (for $1.40 less than Whole Foods in CT!), half gallons of unsweetened almond milk, Ezekiel bread, english muffins and cereal, Maine's Own Organic Milk which is from local grass-fed cows and is lightly pasteurized (not ultra-pasteurized), and more. It also doesn't hurt that everything is about 5-15% cheaper than Connecticut!
We also have a wonderful farmer's market on Tuesdays just down the street from us where we can get raw organic milk, raw organic butter, eggs from chickens that actually eat like chickens, grass-fed pasture-raised meat and so much more. It is awesome. This morning I put some fresh blueberry honey butter from the farmer's market on my Ezekiel toast, it was mind-blowing. Second best thing to peanut butter I have ever put on my toast.
The move back to Maine has just opened up so many convenient and more affordable real whole food options, more than I had even anticipated. Maine gets a bad rap for being a rural state, but in my mind it is a good thing. The amount of high-quality food produced is astounding and readily available and it is too bad that so many people have such limited access to situations like this.
Maybe some of you should move to Maine? A little food for thought I guess.
Check out the BSP Training & Nutrition Newsletter!
You will get immediate access to:
Weekly updates and exclusive content.
The 20-page report "The Truth About Saturated Fat & Cholesterol."
Become more awesome!
Leave a Reply