Filed under: Nutrition, Weight Loss
So I've given you an example of one of my "high carb" days on Warp Speed. It was actually quite enjoyable. The trick really is to find meals that you like that fit the necessary requirements. It is honestly that easy. Now I don't get to have that banana post training every day, so here is a regular Warp Speed day.
Wake @ ~7:45
Breakfast @ 8:15
2 whole omega-3 eggs
1 cup egg whites
1.5 cups mixed veggies – broccoli, onions, orange and green peppers
1oz shredded reduced-fat mozzarella
2 tbsp salsa
1 small McIntosh apple
24oz water
2 Stash Fusion Green/White Tea
1.2 grams EPA/DHA, 2,000 IU vitamin D, 1 multi
Snack @ 11:00
3 pieces reduced-fat string cheese
12 almonds
9 baby carrots
2 tbsp original hummus
1 Stash Fusion Green/White Tea
Intervals & Steady State @ 1:30
20oz water
2 scoops Grape ICE
5 grams leucine
3.5 grams creatine
Post Training @ 2:30
16oz water
1 scoop Chocolate MD
3.5 grams creatine
5 grams leucine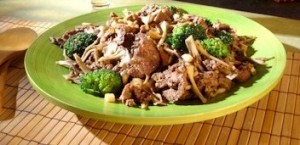 Lunch @ 4:30 – Asian Turkey & Broccoli
8oz 97% lean ground turkey (or beef)
2 cups chopped broccoli
1 cup chopped mushrooms
1 tbsp Sesame Oil
1.5 tbsp reduced-sodium soy sauce
garlic powder to taste
ginger powder to taste
2 Tazo Green Tea
1.2 grams EPA/DHA
Dinner @ 7:30
2/3 cup Friendship Digestive Health cottage cheese
1 scoop Chocolate MD
2 tsp natural peanut butter
2 tbsp milled flax
dash cinnamon
1 Celestial Seasonings Raspberry Gardens Green Tea
Pre-Bed @ 10:30
2/3 cup same cottage cheese
1/2 cup Libby pumpkin
1 scoop Vanilla MD
1 tbsp milled flax
2 tbsp chopped walnuts
cinnamon and nutmeg
1 red tea
1.2 grams EPA/DHA
As you can probably tell, it's not all that different from a high carb day. I don't vary the meals alot because I love what I eat, and it is easier for me to stay on track. This has honestly been MUCH easier than I expected. I highly recommend this programming to anyone interested in it. The training is VERY intense, so make sure you are cleared by a doctor and have already been training for a while. You could also just do the diet with a more normal training style and still get some good results. Either way, if you want to know more about it, check it out HERE.
Check out the BSP Training & Nutrition Newsletter!
You will get immediate access to:
Weekly updates and exclusive content.
The 20-page report "The Truth About Saturated Fat & Cholesterol."
Become more awesome!
Warp Speed - No Carbs? : The Home of Brian St. Pierre Training Says:
January 21st, 2009 at 1:50 pm

[...] carb days which I outlined here, 3-4 "normal" carb days that I outlined here, and on Sunday you get a "no" carb day. Now this is an off-day from training, so [...]
Leave a Reply