Filed under: Nutrition
"Fat is not the problem," says Dr. Walter Willett, chairman of the department of nutrition at the Harvard School of Public Health. "If Americans could eliminate sugary beverages, potatoes, white bread, pasta, white rice and sugary snacks, we would wipe out almost all the problems we have with weight and diabetes and other metabolic diseases."
"The good news," adds Willett, "is that based on what we know, almost everyone can avoid Type 2 diabetes. Avoiding unhealthy carbohydrates is an important part of that solution."
Walt Willett is a smart guy, and one of the leading nutrition researchers in the world. While I still believe that a lot of academics need a paradigm shift in how they view nutrition (focus less on isolated nutrients, and more on actuall food), their work is still of great importance.
However, when did the nutritious potato get lumped into the unhealthy carbohydrate category? Sure, potatoes contain a good amount of carbohydrates, and they do raise our blood sugar quickly, but is this the only measure of a food's quality? Not even close. In reality the glycemic index is vastly overrated. Helpful, but overrated.
Potatoes have been consumed in enormous quantities by many cultures for tremendously long periods of time, and their health was impeccable. Potatoes are one of the greatest sources of potassium on the planet (which lowers blood pressure), and are also among the most satiating foods ever tested.
Another argument often put forth is that potatoes are low in vitamins and minerals compared to vegetables on a per-calorie basis. This is true yes, but potatoes are simply more calorie-dense. Instead if we compared them on a per-serving basis (which is how we eat food), suddenly that is no longer the case.
One medium potato is a good source (meaning it has at least 10% of the Daily Value) or more for 10 vitamins and minerals: vitamin C (28%), vitamin B6 (27%), potassium (26%) and manganese (19%) are the best, as well as niacin, folate, iron, magnesium, phosphorus, and copper. This is all packaged in about 160 calories, with 37 grams of carbohydrates, 4 of it being fiber, and 4 grams of complete protein while weighing in at 173 grams. I would also like to point out that potatoes have a low phytic acid content, allowing their vitamins and minerals to be well absorbed.
Now let's take a look at a fantastic vegetable – broccoli. Two cups of broccoli weighs in at 182 grams, so this is a pretty close comparison in weight and normal serving size. This serving size provides about 60 calories, 12 grams of carbohydrates, 5 of it being fiber, and 5 grams of incomplete protein. This two cup serving is a good source or more for 11 vitamins and minerals, only one more than the "unhealthy" potato: vitamin C (270%), vitamin K (232%), folate (28%), vitamin A (22%), and manganese (20%) are the best, while riboflavin, vitamin B6, pantothenic acid, magnesium, phosporus and potassium round out the rest.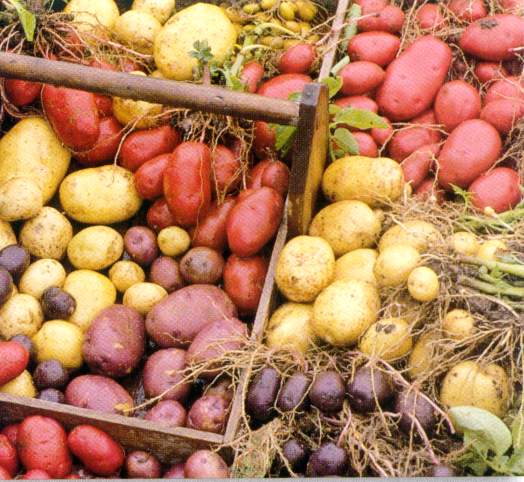 While broccoli clearly was slightly better in these measured categories, does this make the potato inherently unhealthy? Broccoli is supposed to be one the superstars of health, and yet it isn't that much better than a potato (at least in these measures). When you compare potatoes to other starches like quinoa for example (another fantastic food), it compares even more favorably, as quinoa is a good source or more of 10 vitamins and minerals: manganese (58%), magnesium (30%), phosphorus (28%), folate (19%) are the best, with thiamin, riboflavin, vitamin B6, iron, zinc and copper rounding out the rest. All this comes in 222 calories, with 4 grams of fat, 39 grams of carbs, 5 of it being fiber, and 8 grams of complete protein, while weighing in at 185 grams (1 cup cooked).
How does the potato seem now?
While simply looking at macronutrient as well as vitamin & mineral content does not tell the whole story of a food, it gives us a glimpse. In reality we can also look to how these foods supported cultures throughout history, and how well they fared on these foods. The fact is many cultures throughout history have relied on potatoes as their chief calorie source, and have thrived.
To me that is a much greater indication of the health of a food than simply looking at its nutrient content. The point is, real whole foods should not be lumped in with industrially refined foods. They are not one and the same. Stephan over at wholehealthsource did a 3 part series on potatoes and their impact on health, I highly recommend checking them out: Part 1, Part 2, Part 3.
Check out the BSP Training & Nutrition Newsletter!
You will get immediate access to:
Weekly updates and exclusive content.
The 20-page report "The Truth About Saturated Fat & Cholesterol."
Become more awesome!
Leave a Reply