Filed under: General Health, Nutrition, Recipes, Training
Before we get started today I just wanted to remind you guys that today is the last day to get $100 OFF the Fitness Business Blueprint. If you own your own fitness business, or are thinking about one day owning one, then this is a must-have resource for you. It is by far the most comprehensive resource on the market, written by guys you have built incredibly successful facilities from the ground up.
Get a copy of the Fitness Business Blueprint today before the sale ends!
The wife of my best friend sent me a new recipe that they tried and loved. It is incredibly simple and looks so good that I wanted to share it with you guys. It combines delicious and nutritious foods into an explosion of awesomeness.
Quinoa with Spinach and Feta Cheese
Ingredients:
1/2 cup uncooked quinoa
1 tsp extra virgin olive oil
2 cloves garlic, sliced very thin
1 cup fresh spinach
1oz feta cheese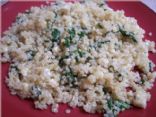 Directions:
Rinse the quinoa in a strainer. (Use a sifter if you don't have a strainer that's small enough.) In a small saucepan, add the quinoa and 1 cup of water. Bring to a boil over high heat, then cover and reduce heat to simmer until water is absorbed, about 10-15 minutes.
Meanwhile, heat a skillet over medium heat and add the olive oil and garlic. Cook the garlic in the oil until the edges of the garlic turns very light brown, being careful not to burn the garlic (reduce heat to low if necessary). When the quinoa is done cooking, add it to the skillet along with the spinach. Stir it together until the spinach wilts. Add the crumbled feta cheese and stir to combine. Makes 2 servings.
Nutrition Facts:
Calories – 233
Fat – 8.5g
Carbs – 32g
Fiber – 3.5g
Protein – 8g
Now this can either be a side dish, or you can incorporate your protein source of choice with it. She added local grass-fed steak, cilantro and tomatoes and actually put it all into a wrap. Sounds extra delicious to me!
Give it a try and let me know what you think.
Check out the BSP Training & Nutrition Newsletter!
You will get immediate access to:
Weekly updates and exclusive content.
The 20-page report "The Truth About Saturated Fat & Cholesterol."
Become more awesome!
Matt Says:
August 14th, 2011 at 9:45 pm

Just tried the Quinoa recipe, Brian. Great stuff! Definitely adding it to my repertoire! Thanks for passing it along.
Leave a Reply