Filed under: General Health, Nutrition
I am backed up with a ton of work, school work and client work right now so I don't have time for anything too intense. But here are a few neat little tidbits that I think you guys will enjoy.
1. So far in my Master's program there hasn't been anything too intellectually challenging going on yet. This semester my classes are pretty vanilla, but it will really start to pick up next semester where I have Advanced Human Nutrition and Metabolism, as well as Advanced Clinical Topics among others.
The saving grace for this semester though has been Case Study Presentations by the Senior Dietetic Interns (I am currently a Junior Dietetic Intern). We had our first presentation last Friday, with another presentation this Friday. Each Senior Intern presents a case study on a patient from their Dietetic Internship. The entire treatment process, from diagnosis to outcome, with an emphasis on Medical Nutrition Therapy.
This has been by far the most fascinating thing we have been done, and I was absolutely enthralled by the whole process. I still do not believe that I in any way want to be a clinical dietitian, but it has been interesting nonetheless. This is an area where I can grow a lot, and I am really looking forward to it.
2. There has been a recent lovefest with the newest "superfood" – black rice. Black rice is black due to its extremely high anthocyanin content, higher than even blueberries, which is a powerful anti-oxidant.
It is also a good source of iron and fiber, as well as some vitamins and minerals. One of the coolest features of black rice is that it is a good source of not only water-soluble nutrients (like anthocyanins) it is also a pretty good source of fat-soluble ones as well, which is pretty rare.
With all that in mind, it definitely seems like a fine food, but does that mean it is like the only rice you should ever eat? No. While it does have some excellent nutritional value, it is merely another healthy Real Food option, nothing more, nothing less.
3. Here is a random one. I went to the health food store near my parent's house to get some butter and a few other things, and I noticed they had some Ezekiel wraps. Usually health food stores are more expensive, and I usually just get mine at Hannaford, but here they were $1.30+ cheaper!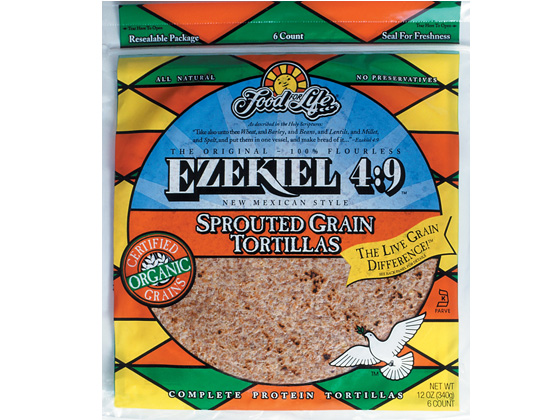 Strange, but definitely awesome.
4. I wanted to ask you, my readers, what else you would like to see me blog about? Any questions, or nutritional concerns you guys want answered? Anything I currently do that you want to see more of? Just let me know!
Check out the BSP Training & Nutrition Newsletter!
You will get immediate access to:
Weekly updates and exclusive content.
The 20-page report "The Truth About Saturated Fat & Cholesterol."
Become more awesome!
Leave a Reply