Filed under: General Health, Nutrition
The Environmental Working Group recently looked at 84 popular brands of cereal to see if they meet either the federal government's proposed nutrition guidelines or the industry's looser nutrition guidelines.
Amazingly 75% of the cereals tested failed to meet the federal guidelines, and many of the cereals had more sugar per serving than a twinkie!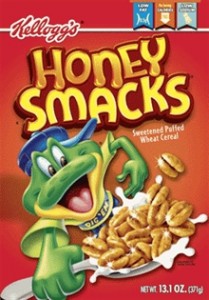 For example Kellog's Honey Smacks are 56% sugar by weight! That is disgusting. A lot of these cereals are like having dessert for breakfast, and they are marketed to kids and moms as healthy ways to start the day. Call me crazy but that seems a little misleading in my book.
Click HERE for the entire report.
Check out the BSP Training & Nutrition Newsletter!
You will get immediate access to:
Weekly updates and exclusive content.
The 20-page report "The Truth About Saturated Fat & Cholesterol."
Become more awesome!
hooch turner Says:
December 15th, 2011 at 11:52 am

Despite the sickly sweet poison contained within, they have such wonderfully colourful packaging. It's generally the added milk that makes the cereal taste so nice, in my opinion.

Amiee Kiepert Says:
February 8th, 2012 at 2:42 am

This may not be the best place to request this, but I am searching for a pest management provider inside the pittsburgh region and have no way to find out who is the best. I found this company which is truly close to me and wished to see if anyone has any assessments on them. Spectrum Pest Control, 3058 West Liberty Avenue, Dormont, PA 15216 – (412) 446-2802
Leave a Reply