Filed under: General Health, Nutrition, Training, Youth Training
I had the pleasure to write the Nutrition Guide to Kevin Neeld's new Ultimate Hockey Transformation.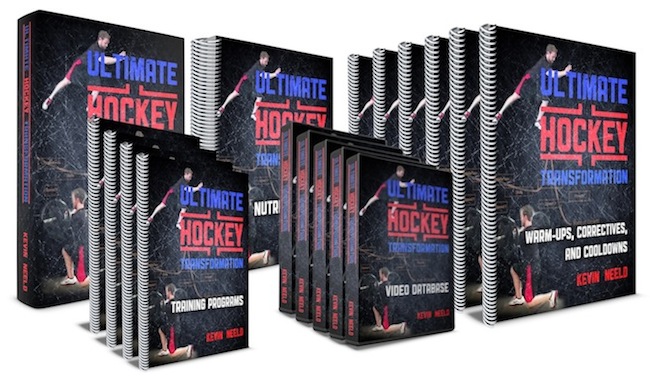 Ultimate Hockey Transformation is the follow-up training program series to Ultimate Hockey Training, and features year-round hockey-specific off-ice training programs for players at the U-14 age level and above.  The Ultimate Hockey Transformation system includes:
In- and off-season training programs for players at the U-14, U-16, U-18, and Junior/College levels totaling 120 weeks of programming!
228 high quality videos demonstrating how to perform every exercise in the program with perfect technique
A 65-page manual outlining everything you need to know to successfully use the Ultimate Hockey Transformation system!
Specific warm-ups, corrective exercise, and cooldowns to help you maximize your training preparedness and recovery
A Performance Profiling Sheet so you can track your progress over time
The UHT Recovery Monitoring Log so you can prevent overtraining before it occurs!
Simply, following the RIGHT training program can completely alter the course of your career. Propel your game to the next level by following training programs proven to deliver game-changing results!
Simply choose the Pro Package and you also get access to my brand new Nutrition Guide, which is unlike anything I have ever written. In this Nutrition Guide I take an entirely new and improved approach for athletes to improve their nutrition and boost their health, body composition, and performance.
Check it out ===>>> Ultimate Hockey Transformation. 
Check out the BSP Training & Nutrition Newsletter!
You will get immediate access to:
Weekly updates and exclusive content.
The 20-page report "The Truth About Saturated Fat & Cholesterol."
Become more awesome!
Leave a Reply