Filed under: Nutrition, Weight Loss
With this being my 4th blog post this week, I think it just might be a record. Anyway, to the real story. This is a recipe that I picked up from Warp Speed that I really enjoy. I've modified it a little bit, adding the seasonings that I like and the mushrooms, so feel free to experiment and let me know how it comes out.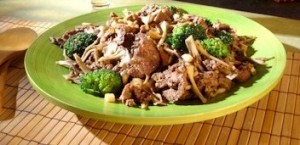 Asian Turkey and Broccoli
Ingredients
8oz 97% lean ground turkey (or beef)
2 cups chopped broccoli
1 cup chopped mushrooms
1 tbsp Sesame Oil
1.5 tbsp reduced-sodium soy sauce
garlic powder to taste
ginger powder to taste
Directions
Brown turkey on med to medium high heat (you can go higher if using stainless steel or cast iron cooking pan, for non stick I would stay there) in the sesame oil and soy sauce. Once meat is approximately halfway cooked, add in broccoli and mushrooms and stir. Sprinkle on powders and stir some more until evenly distributed. Enjoy.
There you go. Another delicious and easy recipe. Even if you aren't following Warp Speed, you can enjoy this meal as is, or add in 1/2 cup whole or wild rice to spice it up even more.
Check out the BSP Training & Nutrition Newsletter!
You will get immediate access to:
Weekly updates and exclusive content.
The 20-page report "The Truth About Saturated Fat & Cholesterol."
Become more awesome!
Elisha Says:
December 2nd, 2015 at 1:44 am

What a cute video! I can only get my 21 month old to eat kale chips. My 9 and 7 year old don't care for them. Maybe I'll have them make them next time Hope you are doing well after the arrival of bocrcoli. I listen to all the podcasts can't wait for the next one.

shelter insurance hastings ne Says:
October 3rd, 2016 at 8:58 pm

I pretty much make mine the exact same way, I also learned the trick of throwing in some frozen corn (or soycutash) with the beans while they cook, that way I get in an extra serving of vegetable. I also ass 0% greek yogurt, it really gives it a nice touch. This is an awesome weekend dish!
Leave a Reply