Filed under: Uncategorized
So I know that last week was an aberration and that I only blogged twice. I am here today to tell you what I have been up to, plus to soften you up with a cute picture of my dog and cat laying together in my dog's bed. I have had many readers ask me for more pictures and updates of Lucy, and here she is with our sweet little cat Splanchnic (Anna got her in her first year of dental school, which is basically medical school, hence the name). Well here they are, doing what they do best, being cute.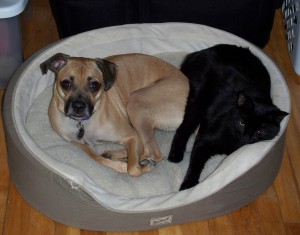 On top of that, my trusty 1999 Ford Taurus was running into some problems, and with my commute to and from UMaine (160 miles roundtrip) 2x/week and with winter looming, we decided now was the time to trade her in. It was bittersweet for me, as it was once my grandmother's car, and was the first car I ever owned.
While it certainly was not a looker (I don't know what Ford was thinking with that design), it certainly got me from Point A to Point B for 4 solid years. In fact, in 2009 alone I put over 41,000 miles on it just commuting to and from CP!
While I will miss that car, my wife and I were able to trade it in for a much nicer, newer and more manly looking vehicle – a 2005 Jeep Grand Cherokee Laredo. Safe as can be, plenty of cargo room, decent highway gas mileage (only 1-2 mpg less than my Taurus) and more than capable in the snow, this is exactly what we were looking for.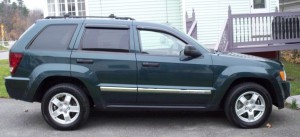 So that is what we have been up to these last few days since returning from the FNCE conference in Boston on Tuesday night. Needless to say, I hope to be done car shopping for many years. For any of you looking for a new or used car in Maine, I can't recommend Newcastle Chrysler Dodge Jeep enough. They were pleasant to work with and made purchasing a vehicle a fun and enjoyable, without any hassle.
Anyway, I am off to the gym to get my swole on!
Check out the BSP Training & Nutrition Newsletter!
You will get immediate access to:
Weekly updates and exclusive content.
The 20-page report "The Truth About Saturated Fat & Cholesterol."
Become more awesome!
Leave a Reply