Filed under: General Health, Nutrition
A reader recently sent me a question about a popular food movement – Raw Food – and the idea that cooking food somehow makes them nutritionally inferior. See my take.
Q. Brian-
I've been hearing a lot recently about how cooking foods changes the nutrient profiles.  For example, when you cook meat, many of the proteins are killed.  My wife went to a nutritionist who recommended a whey protein that had not been heat pasteurized, thus keeping the proteins in tact.  How does this relate to your suggestions regarding a high protein diet?
The follow up question, as it relates, is what do you think about the Raw diet philosophy?  The Raw folks tend to be vegetarians which means they never eat "complete" proteins.  Isn't eating complete proteins a foundational concept of good nutrition?
A. The idea that cooking kills proteins is misleading. Cooking will destroy/decrease some nutrients sure (like vitamin C), but it also makes others more digestible, including most protein. Exposing protein to heat will denature some of the protein, causing some of the structure to unfold, actually making it more digestible! Too high of heat and excess cooking can certainly destroy some delicate fractions (specifically in whey) and can destroy some proteins, but that takes serious effort. Cooking chicken is only going to make it easier for you to eat and digest.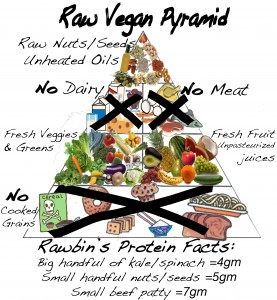 I think it makes little impact on eating a (relatively) high protein diet. Cook your food to appropriate temps for food safety, don't overdo it, and you will be fine. In terms of whey, avoiding excessive heat is a good thing to protect some of the fragile biological fractions and is one reason why I recommend products like Jay Robb.
In terms of the Raw Food diet the whole premise is rather silly. There are some potential benefits (as you end up eating real whole food almost exclusively), but cooking high quality food at reasonable temperatures (meaning not frying things) is not a bad thing. As for vegetarians/vegans only consuming complete proteins, it isn't entirely necessary to eat complete proteins, as you can combine incomplete proteins throughout the day to compensate, however it is certainly easier to reach your protein goals when you are doing so.
Remember this, most "diets" are based around an incomplete idea (like only eating raw food). In the most basic sense, you should base your diet around high quality animal and plant foods and stay adequately hydrated, which would do wonders for the majority of the population without having to go to any extremes.
Check out the BSP Training & Nutrition Newsletter!
You will get immediate access to:
Weekly updates and exclusive content.
The 20-page report "The Truth About Saturated Fat & Cholesterol."
Become more awesome!
Leave a Reply