Filed under: General Health, Nutrition
My good friend Cassandra Forsythe has blogged quite a bit recently about the greatness of hemp. For those of you new to this wondrous food, it has many fascinating properties. Obviously we know about some illegal ones, but I am certainly not talking about that today. It is one of the earliest domesticated plant and it is environmentally friendly due to the fact that it "requires" little pesticides and no herbicides.
It is a tremendously versatile little plant that contains all the essential amino acids and fatty acids, which is quite a remarkable combination. It has a perfect 4:1 ratio of omega-6 to omega-3 polyunsaturated fats, while also being a solid source of the very beneficial and anti-inflammatory omega-6 GLA. Omega-6 fats tend to get a bad rap because they are pro-inflammatory, but what people fail to realize is that inflammation is necessary to a degree. It is an essential component to the healing process, and while it needs to be kept in check, it should not be utterly eliminated. To read more about omega-6′s and GLA, I wrote about it HERE.
Hemp's fatty acid combination is fascinating, as it contains not only GLA, but it is also a good source of the omega-3 ALA (like in flax, chia, walnuts) and is a source of an omega-3 fat that is garnering some attention (SDA, or stearidonic acic). SDA is interesting for it converts to the better known EPA (one of the omega-3′s in fish). ALA also converts, but poorly. When consumed in high amounts (like from flax oil, which I don't recommend, eat the seeds) it can accumulate in blood lipids, which is problematic. SDA also converts to EPA, though at a better conversion rate, and does not accumulate in blood lipids. This is amazing, since it boosts the important EPA levels without having to consume as much fish oil, without causing any other problems.
Hemp is also rich in vitamin E, carotenes, chlorophyll, phosphorus, magnesium, and zinc while also being gluten-free.
For the protein side of things, hemp is a pretty solid choice, especially for those of you who can't do whey. It is better than soy since it contains more cysteine (which boosts immunity) and other essential amino acids. It contains all the essential amino acids, is hypo-allergenic, and highly absorbed. Hemp is also a tremendous source of fiber, which is never a bad thing.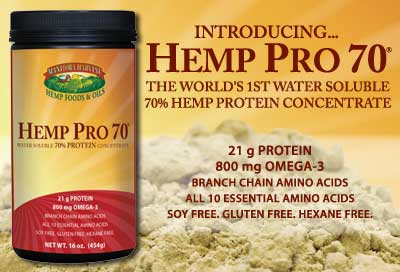 Manitoba Harvest is a great company out of Canada that produces top-notch hemp products that are certified organic, and sustainable. They make the incredible Hemp Pro 70, a hemp protein that is 70% protein, which is very high for a plant-based source, as well as hemp butter, oil, milk and a lot more. I encourage you to check them out.
Check out the BSP Training & Nutrition Newsletter!
You will get immediate access to:
Weekly updates and exclusive content.
The 20-page report "The Truth About Saturated Fat & Cholesterol."
Become more awesome!
Leave a Reply