Filed under: General Health, Nutrition
Odd title right? Most people today think of omega-6 polyunsaturated fats as the devil. These fatty acids, coming mainly from refined industrial vegetable oils are the cause of low-level systemmic inflammation, and therefore partly responsible for every disease under the sun, at least that's the theory. I do actually believe that there is a lot of truth to that statement, and that on the whole we as a society consume far too many omega-6′s and far too little omega-3′s. The problem arises when health-minded people attempt to eliminate omega-6′s from their diet, and consume vast quantities of omega-3′s. The 3′s are all well and good, but we need the 6′s too. It reminds of when health-minded people used to attempt to eliminate all saturated fat from their diet, their heart was in the right place, but their information was not.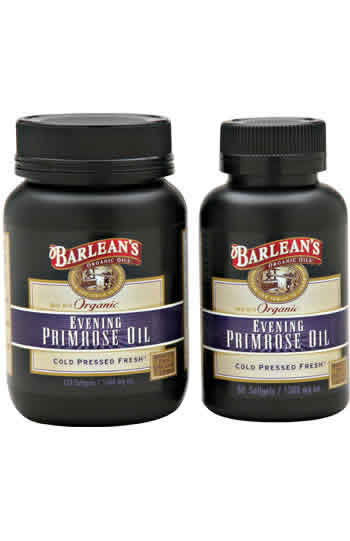 Now I am not encouraging people to consume copious amounts of highly refined and damaged vegetable oils like soybean, safflower, sunflower, corn, cottonseed, etc, I am encouraging people to remember that swinging to far in any one direction is never the answer. There is one particular omega-6 fatty acid that I wanted to glorify today. That is Gamma Linolenic Acid (GLA).
GLA is found in evening primrose oil, borage oil, black currant seed oil and a few others. It is known to have anti-inflammatory properties and is often used in treatment for acne and excezema. We actually produce GLA from linoleic acid (which in excess is a pretty nasty little fatty acid) by the enzyme delta-6-desaturase. Some people, especially as we age have a decreased ability to convert linoleic acid into GLA. This can also be a problem when there isn't sufficient linoleic acid in the diet. Insufficient linoleic acid intake is most definitely not a problem for the average American consumer, but for people who take their nutrition to extremes and try to avoid all vegetable oils, it could actually become an issue. Those omega-6 fatty acids are essential, meaning we have to get them from the diet because the body can not produce them from other materials. They are needed for the inflammatory process, for making GLA, and deficiency symptoms can include dry hair, hair loss, and poor wound healing.
As you can see, I am a fan of Barlean's products
So unlike the other omega-6 fatty acids, GLA is anti-inflammatory and has immune-boosting properties, it is the paradox of the omega-6 world. It is also being studied for its anti-cancer properties, and its potential to prevent tumor growth and spreading.
In conclusion, it wouldn't be a bad idea for all you omega-3 junkies out there, to maybe include a couple hundred milligrams of GLA from evening primrose or borage oil, just to be on the safe side.
Check out the BSP Training & Nutrition Newsletter!
You will get immediate access to:
Weekly updates and exclusive content.
The 20-page report "The Truth About Saturated Fat & Cholesterol."
Become more awesome!
Leave a Reply