Filed under: General Health
While doing a quick rotation at the Cancer Center my preceptor showed me a pretty awesome website that I thought I would share with all of you.
It is called My Family Health Portrait, and it allows you to create a family history document to bring with you to your PCP and have placed in your medical file. This will provide your doctor with important information that can ultimately improve your health. People have become far more open about discussing health problems than in years past, but as a society we still tend to be very private about such things.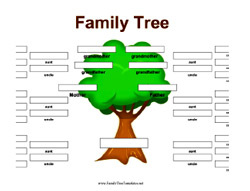 While I realize some are embarassing and we prefer not to discuss them, in reality it is very important for family members to be aware of each other's health problems, because family history of a disease is a big-time risk factor for you to develop that disease. This tool allows you to essentially create a family tree of health issues and diseases you are potentially at risk for, possibly providing an early warning to your doctor that they may not otherwise have noticed.
It is beautifully simple and can be edited and updated over time. This is one more powerful tool to help you prevent unwanted health problems and providing a copy to your doctor is just one more step in becoming a strong advocate for yourself and your medical management.
Check out the BSP Training & Nutrition Newsletter!
You will get immediate access to:
Weekly updates and exclusive content.
The 20-page report "The Truth About Saturated Fat & Cholesterol."
Become more awesome!
The Home of BSP Training & Nutrition » Blog Archive » President's Cancer Panel Report Says:
November 30th, 2011 at 1:02 pm

[...] continue in the same vein as my previous post, I want to discuss another piece I learned about during my rotation at the Cancer Center. My [...]

The Home of BSP Training & Nutrition » Blog Archive » Food, Nutrition, Physical Activity and the Prevention of Cancer Says:
December 5th, 2011 at 4:29 pm

[...] in the same vein that of my previous two posts (My Family Health Portrait and President's Cancer Panel Report) is another interesting tidbit I learned in my outpatient [...]

Diedre Motil Says:
February 8th, 2012 at 9:27 pm

This may not be the most beneficial place to inquire about this, but I am trying to find a pest control business inside the pittsburgh area and have no method to find out who's the most effective. I discovered this business that is really close to me and wished to see if any one has any critiques on them. Spectrum Pest Control, 3058 West Liberty Avenue, Dormont, PA 15216 – (412) 446-2802
Leave a Reply