Filed under: General Health, Nutrition, Training, Weight Loss
I know I have talked about Show and Go incessantly for the past week, but I am very excited for its release. As of this moment, Eric Cressey has just opened up the doors to his brand new Show and Go Training System!
He's offering a huge discount on the System and is giving away some really cool bonuses for you if you act fast. But hurry they won't last long…
You can get all the details right here!
I've known Eric for several years now and I can personally tell you that I consider him to be one of the finest performance enhancement coaches in the world. I have seen hundreds of Eric's clients make the best progress of their lives under his guidance, while also improving their long-term health and performance.
I have also seen this actual program in action, and I absolutely know that it works! One of my best friends in college was a guinea pig for this program.
Now this is a guy who had been training properly for a full year prior to testing Show and Go, and he had made some nice progress. He had cleaned up his diet, gained some strength, improved his body composition as well his performance on the rugby pitch.
In the 4 months of the Show and Go program he lost 10lbs of fat, decreased his bodyfat by 4% and made some tremendous strength gains: his squat went up 30lbs, his deadlift 40lbs (to 405!), his bench by 15lbs, and his chinups by 25lbs!
These would be impressive gains from a beginner, but from a guy who had done some training on and off for a few years, and then had a solid year of high-quality training prior to, these are astounding numbers! And he did it all while getting significantly leaner and not actually dieting! He simply committed himself to some nutrition guidelines I had given to him years prior that he had never truly put to use!
To think, he did all that in just 16 weeks! Keep at it and imagine the results in a full year!
The best part about it all is though Eric and I had kicked around the idea of me writing the nutrition component for his next project for quite some time, it was actually when we were discussing this guys particular results that it truly came to fruition. And thus, the Show and Go Nutrition Guide was born!
I give Show and Go my absolute highest recommendation; from the soft-tissue improvements, the warm-ups and mobility improvements, to the top-notch training and performance improvements this book has it all. Not too mention all of the incredible bonuses and amazing Nutrition Guide!
Do yourself a favor, take your training, nutrition and performance to the next level, and get the Show and Go Training System Now!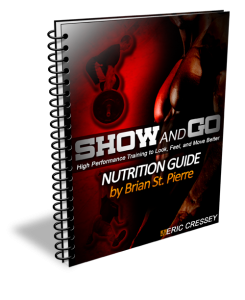 Check out the BSP Training & Nutrition Newsletter!
You will get immediate access to:
Weekly updates and exclusive content.
The 20-page report "The Truth About Saturated Fat & Cholesterol."
Become more awesome!
Leave a Reply