Filed under: Uncategorized
As a lifelong hockey and Bruins fan, and someone who played the game for 15 years, it was quite a moment last night watching the Bruins hoist the Stanley Cup for the first time in 39 years.
They made it to the Finals in 1988 and 1990, but I was only 3 and 5 years old (my birthday is a month after) so I hardly remember watching them get demolished by the juggernaut that was the Edmonton Oilers back then.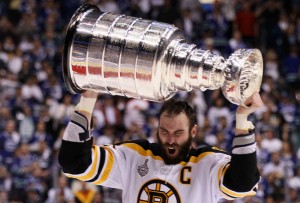 Tim Thomas played absolutely out of his mind, allowing only 8 goals in 7 games and making tons of spectacular saves. Even the old man Mark Recchi played some phenomenal hockey. At the beginning of the series I was telling my dad how ridiculous it was that the 43 year old was on the power play and getting so much playing time, and then he comes through with 3 goals and 4 assists in 7 games, providing steady play and big goals. Now he gets to ride off into the sunset and then into the Hall of Fame. Not a bad way to end your career.
The greatest part is this team is comprised mostly of guys in their prime, or even a little younger! Thomas and Zdeno Chara, their best defenseman, are in their 30's, but other than that their key players are all young. Lucic, Horton, Bergeron, Krejci, and Marchand are all 26 or younger! Tyler Seguin, the 2nd overall pick last year is only 19. They also have the 10th pick this year. Their backup goalie is excellent and only 23. They are locked and loaded to be competitive for the next several years. I am looking forward to every minute of it.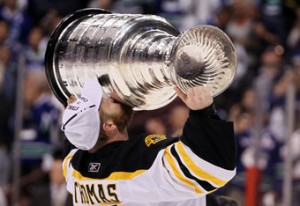 Up here in New England we have been spoiled over the past 10 years. The Patriots have 3 world championships, the Red Sox 2, the Celtics 1 and now the Bruins with 1. In many ways I savor this one the most, as hockey was my first love as a kid and for as long as I can remember the Bruins have been the red headed step child of the 4 major pro teams.
Boston used to be a hockey town, and it is great to see the Bruins thrusting themselves back into the spotlight. They can now be uttered in the same sentence as the other 3 teams with this monumental achievement. I tip my cap to them and look forward to next year!